Our History

In 1921, Marvin Hunt and Carl Behrens constructed a feed mill along the River near downtown Petaluma. The mill was located at First & C Streets to facilitate loading feed onto river barges.

Hunt and Behrens formerly worked at McNear's mill where they observed the increasing interest in, and role of, vitamins, minerals, proteins, and energy in animal nutrition and formula feeding. When they then opened their own feed facility, they focused on customer service and product efficiency. Their business prospered primarily because of service consistency and product quality. Just prior to World War II, Hunt and Behrens constructed a new facility on Lakeville St. - its current location. The new facility housed an office, retail store, warehouse shops, garage, and storage. The larger size of the new facility allowed them to provide the first bulk delivery mixed feeds. Bulk delivery resulted in lower costs to the Hunt and Behrens customers. This allowed them to provide their customers "the best feed at a minimum fee" - which even today is a primary goal.

The storage and milling capacity were doubled in the 1950's to meet the increasing needs of the Hunt and Behrens customers. In the 1970's, a second mill was constructed at the original site. This allowed the operation of the poultry division to be separate from the dairy feed division. In the 1980's, a batching station was added for dairy feeds. Recently, a new rolling system, grinder, and pellet machine have been added.

The ownership that originated with Marvin Hunt and Carl Behrens has evolved over the years to include sons of owners and several employees who bought into the business. The current Directors of Hunt and Behrens are Bob Falco, Dan Figone, and Joe Masciorini, Jr.


For more information, see Sonoma County, River of Time, by Simone Wilson, Windsor Publications, 1990.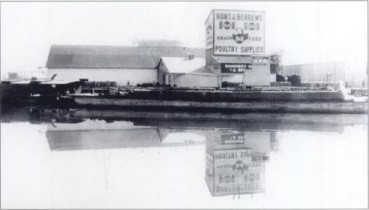 Current location showing back of feed processing mill